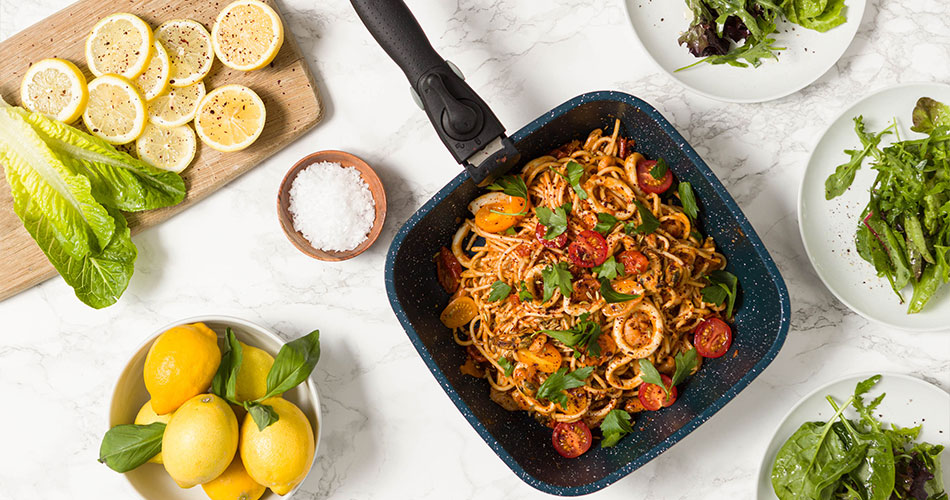 If you like to experiment in the kitchen, we've got a treat for you!
Best of all, you can create each tasty dish in the FlavorStone Diamond, or as we call it, the 'Pan That Can'. Its square shape gives you 25% more space than ordinary circular pans, so you can cook all your ingredients with ease. This pan also has a non-stick wipe clean coating and its diamond infused surface means it's 3X tougher than most pans.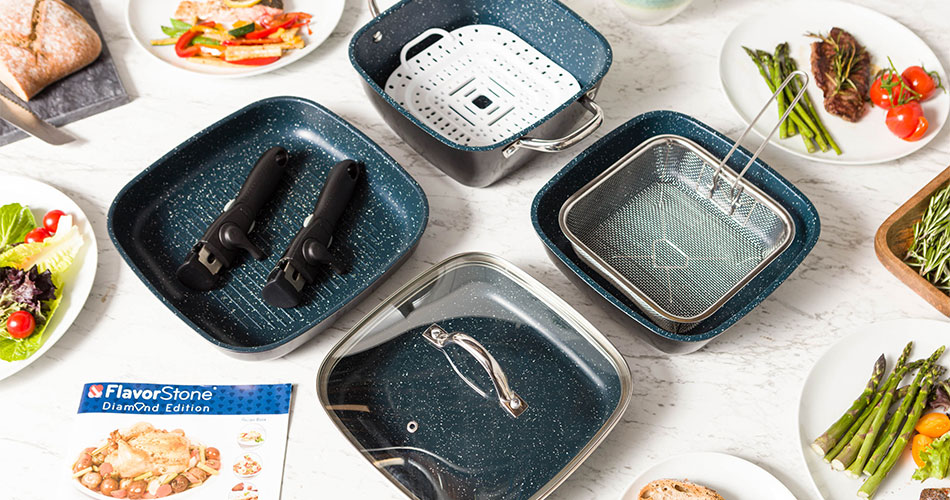 1. Smoked mackerel and leek hash with horseradish
Healthy, tasty and easy to make, this dish is a great choice for a weeknight meal. You only need to gather a few ingredients too, saving you time after a long day.
Ingredients
250g new potatoes, halved
2 tbsp oil
2 large leeks, thinly sliced
4 eggs
100g peppered smoked mackerel, skin removed
2 tbsp creamed horseradish
Find the recipe here: https://www.bbcgoodfood.com/recipes/smoked-mackerel-leek-hash-horseradish
2.

 

Spicy tomato and capsicum meatball shakshuka
If you're looking for a winter warmer with a twist, try this Middle Eastern dish. A shakshuka is a type of tomato-based stew, traditionally served in a cast iron pan. It's spicy sauce and hearty meatballs will certainly warm your cockles and fill you up!
Ingredients
3 teaspoons extra virgin olive oil
500g beef meatballs
400g jar tomato and chilli pasta sauce
125ml (1/2 cup) Massel chicken style liquid stock
145g (2/3 cup) roasted capsicum strips, drained
4 eggs
Chobani Meze Dip Salsa Rojo, to serve
1/2 cup fresh continental parsley leaves, coarsely chopped, to serve
Crusty bread to serve
 Find the recipe here: https://www.taste.com.au/recipes/spicy-tomato-capsicum-meatball-shakshuka/3dUO14rD?nk=74e2a0521192876e5bbc9edce30553c4-1599041358
3.

 

Curried cod
This one-pot recipe is perfect for a healthy midweek meal. Cod is a nutritious white fish that is low in fat and contains plenty of protein, vitamins and minerals. It's easy to prepare too, and can be used in many dishes, just like this curry concoction.
 Ingredients
1 tbsp oil
1 onion, chopped
2 tbsp medium curry powder
Thumb-sized piece ginger, peeled and finely grated
3 garlic cloves, crushed
2 x 400g cans chopped tomatoes
400g can chickpeas
4 cod fillets (about 125-150g each)
Zest 1 lemon, then cut into wedges
Handful coriander, roughly chopped
Find the recipe here: https://www.bbcgoodfood.com/recipes/curried-cod
4.

 

Crispy Tofu
Tofu is a popular vegan substitute for meat. It's made from soya and is a great source of iron and calcium. If you're looking for a quick and easy technique for making crispy tofu for stir fries or curries, this one could be for you!
Ingredients
14-16 ounces extra firm tofu (extra firm is important)
1 healthy pinch sea salt
1 tsp desired seasoning (such as curry powder, chili powder, tamari, tandoori spice, etc.)
1 tbsp coconut, avocado or grape seed oil
Find the recipe here: https://minimalistbaker.com/quick-easy-crispy-tofu/
5.

 

Spaghetti with nduja, fennel and olives
A fun twist on the classic spaghetti pasta dish. This recipe uses 'nduja', a spicy, spreadable salami paste from Calabria, Italy. It's very similar to 'sobrasada' from Mallorca, Spain.
Ingredients
400g spaghetti
3 garlic cloves, very thinly sliced
½ fennel, halved and very thinly sliced
75g nduja or sobrasada paste (see tip)
200g tomatoes (the best you can get), chopped into chunks
75g black olives, pitted and sliced
2 tsp tomato purée
3 tbsp olive oil, plus a drizzle
2 tsp red wine vinegar
40g pecorino, plus extra to serve
Handful basil, torn
Find the recipe here: https://www.bbcgoodfood.com/recipes/one-pan-spaghetti-nduja-fennel-olives
6.

 

Honey garlic chicken
If you want to add some flavor to your chicken dinners, why not try this honey and garlic sauce? It should only take you 20-25 minutes (prep included) and will give your chicken a sweet and shiny glaze.
Ingredients
1 lb. boneless, skinless chicken thighs/breasts
1 teaspoon garlic, minced
½ teaspoon ginger, minced
4 tablespoons honey
2 tablespoons soy sauce
Find the recipe here: https://thecookingjar.com/honey-garlic-chicken-skillet/#tasty-recipes-8088
7.

 

Pan-fried basa fillets with garlic potatoes recipe
Like cod, basa is full of goodness. It is a flaky white fish that's high in protein and a great source of vitamin C. And when served with garlic potatoes, zesty chilli and coriander salsa, it makes a delicious meal.
Ingredients
350g (12 1/2oz) baby potatoes, quartered
1 tbsp extra-virgin olive oil
1/2 tbsp rice wine vinegar or white wine vinegar
½ lime, zested and juiced
1 red chilli, seeded and finely chopped
2 garlic cloves, crushed
3-4 tbsp roughly chopped coriander
1½ tbsp olive oil
3 tbsp plain flour
1 x 265g (9 1/2oz) pack skinless and boneless basa fillets
Find the recipe here: https://realfood.tesco.com/recipes/pan-fried-basa-fillets-with-garlic-potatoes.html
8.

 

Pan-friend cinnamon bananas
Whether you're making something special for breakfast or simply want an exciting afternoon snack, this recipe will do the trick. Plus, it's a great way to use up your overripe bananas and it only takes 10 minutes!
 Ingredients
2 bananas Slightly Overripe
2 tablespoons sugar (you can substitute granulated Splenda, if you like)
1 teaspoon cinnamon
1/4 teaspoon nutmeg
Find the recipe here: https://dizzybusyandhungry.com/pan-fried-cinnamon-bananas/
9.

 

Seared scallops with garlic basil butter
If you've never had scallops before, they're a type of shellfish and are both delicious and nutritious. They're easy to prep and cook, too – we promise. Simply follow this recipe and you'll soon have restaurant worthy scallops.
Ingredients
12 large sea scallops, 1 1/4 to 1 1/2 pounds
2 teaspoons all-purpose flour, optional, see notes
Salt and fresh ground black pepper
2 tablespoons oil, such as olive oil, avocado oil or grape seed oil
1 1/2 tablespoons butter
2 garlic cloves, minced
1 cup fresh basil leaves
3 to 4 lemon slices
Find the recipe here: https://www.inspiredtaste.net/37110/garlic-basil-seared-scallops/
10.

 

Asian Broccoli Tofu Stir Fry
Want to whip up your own version of your favorite takeaway? Try this Chinese broccoli and tofu stir fry. It might take a little longer than calling the restaurant, but it's tastes just as good and is easy to make in one big pan like the FlavorStone Diamond.
Ingredients
8 oz package of cubed tofu
3 tablespoons cornstarch
10 cloves of garlic, minced
1/4 cup finely chopped fresh ginger
9 cups fresh broccoli florets
1 cup chopped green onions
White rice, for serving
Find the recipe here: https://buildyourbite.com/garlic-tofu-broccoli-skillet/