Low Impact Ab Exercisers and Core Workout Machines
The health benefits of using an ab machine go beyond a washboard stomach. Strengthening your core can improve your posture, stability, and movement, as well as help to manage pain and prevent injury.
So, it's no surprise that our low impact ab exercisers are popular with millions of keep-fit-fanatics. While traditional exercises like crunches, sit-ups, and planks are effective, investing in a state-of-the-art home core exerciser can help to transform your body faster and make achieving your fitness goals more fun.
The Ab Doer 360 lets you train from the comfort of your own home, so you don't have to take on hefty gym fees or the crowds that come with having a membership.
Build your core training regime around thee machine, whatever your age, size, or ability.
Which ab exerciser is right for you?
A full-body workout from a comfortable seated position seems too good to be true. But that's exactly what the low impact Ab Doer 360 offers. It's ideal if you're looking for a home ab machine that gets you off the cold, hard floor and gives you results, fast.
The Ab Doer 360 has a Dynamic Fluidity Seat, which provides you with cushioned support to take the pressure off your pelvis, tailbone, and hip joints. While its contouring arms bar promotes body alignment and reduces compression on your neck, back and spine. Then there's the Ab Doer 360's patented core support column and dual foam rollers, which add to the level of comfort, and massage your muscles as you move.
Each feature of its ergonomic, light-weight design allows you to activate a range of core muscles. And with the multi directional technology and powerful resistance, you can burn more fat and build your muscles without the need for high impact aerobics.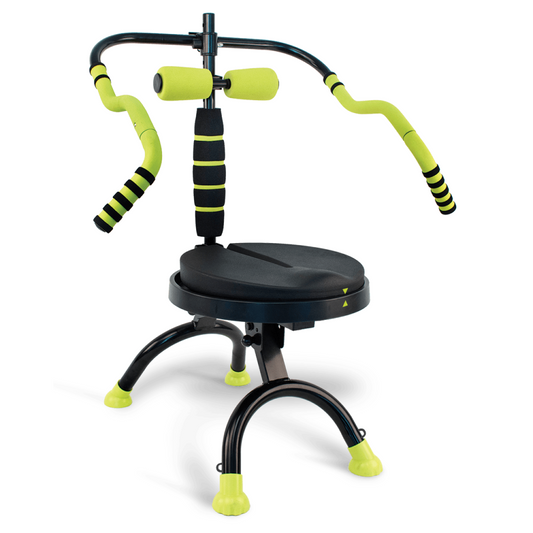 The Ab Doer 360 - Home Workout System
Transform your entire body with this revolutionary home exercise equipment. The Ab Doer 360 combines ab toning with muscle shaping and aerobics into a fun and easy workout: Abdobics. With its Dynamic Fluidity Seat, patented core support column and contouring arms bar for 360° movements, you can tighten, tone, and sculpt your muscles fast, all from a comfortable seated position.
FIND OUT MORE
Read all our Ab Doer 360 reviews
"The Ab Doer far exceeds my expectations, great workout and really good for back pains" - Kevin M
REVIEWS
Why are ab core exercisers so popular?
If you're new to exercise or haven't used home gym equipment before, ab core exercisers offer a great starting point. With the low impact Ab Doer 360, you can work your muscles and get fit at your own pace – and in total comfort. Forget intimidating, high intensity aerobics and choose the fun, easy workout of Abdobics.
Or perhaps you're unsure of how to engage your core properly? Ab machines like the Ab Doer 360 are scientifically designed to engage all the right muscles and areas of your body, whilst supporting your bones and joints. Feel reassured you're getting it right first time.
Investing in an ab machine is also handy if you're struggling to find the time to train your core. Easy access to high quality equipment means you can work out whenever you need to and as often as you like. Plus, you'll see results quicker.
Home gym equipment like our affordable ab exercisers help to keep your budget in shape too. You'll save money on expensive gym membership fees, as well as the cost of travel. And unlike a gym membership, you'll have the freedom and enjoyment of exercising in your own home when it suits you. Your family and friends can enjoy the benefits of your home gym too, without any extra cost.
No matter your age, size or ability, get to where you want you to be with one of our revolutionary home workout machines.